Plantar Fasciitis (Heel Spur)
Podiatrist Serving Coconut Creek & Palm Beach County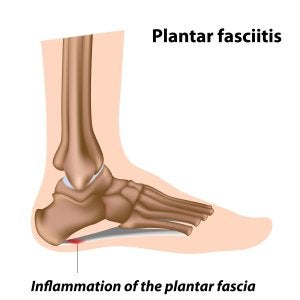 Plantar fasciitis, also known as heel spur syndrome, is a condition that causes inflammation of the connective tissue (the plantar fascia) that extends along the bottom of the foot. People who have this condition experience pain in the arch and heel. One of most common culprits behind plantar fasciitis is overpronation, or the excessive inward rolling of the foot during walking. With overpronation, there is usually heightened tension placed on the plantar facscia due to excessive flattening of the foot and stretching of the arch, which results in swelling of the connective tissue.
Effective Treatment in Coconut Creek, FL
There are things you can do improve your condition if you have plantar fasciitis. With the right practices and treatments, you can find alleviation for your inflammation and heel pain! Our Coconut Creek podiatrist, Eric J. Lullove, DPM, can help create a personalized treatment plan!
Plantar fasciitis treatments include:
The use of ice packs
Orthotic devices
Stretching exercises
Physical therapy
Extracorporeal shock wave therapy (ESWT)
Anti-inflammatory medications
It is crucial that you consult with a qualified podiatrist before taking any medications for your plantar fasciitis. Your doctor can help you determine if medication is the right treatment option for you. Contact us at (561) 989-9780 so we can help you schedule a consultation with Dr. Lullove!