Orpyx

®

 SI Sensory Insoles
Dr. Eric Lullove Specializes in Diabetic Foot Care
Insoles to Help Manage & Prevent Diabetic Foot Ulcer Recurrence
When worn 4.5+ hours per day, patients saw an 86% reduction in Diabetic Foot Ulcer recurrence based on a recent clinical study.
Custom made for each individual, Orpyx® SI Sensory Insoles includes remote patient monitoring for the prevention of diabetic foot ulcers (DFU) and neuropathy-related ulcers. These insoles are designed to effortlessly capture plantar pressure, temperature and movement throughout the day in order to provide you with real-time audiovisual alerts to enable you to take action to resolve high-pressure areas that may lead to tissue breakdown. 
The data collected by the insoles can also be monitored by Dr. Lullove and his team to identify trends to proactively make treatment decisions to help keep your feet healthy.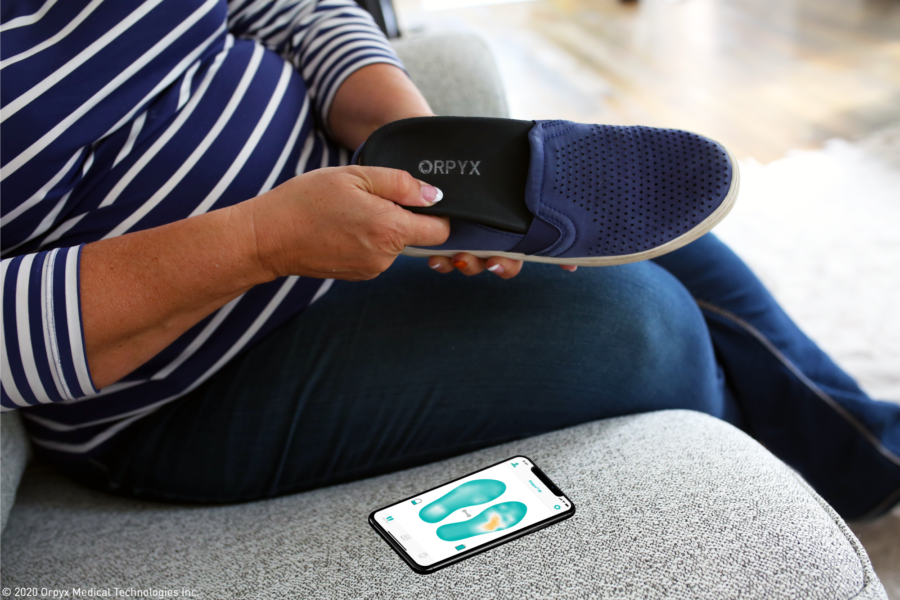 Diabetic Foot Ulcer Statistics
1 in 4 people suffering from diabetes develops a foot ulcer
40% of those ulcers will recur within the first year after they heal
Once a person develops a DFU, the 5 year mortality rate is almost 50%
By preventing DFUs from recurring, we can greatly improve your life! 
DON'T LET DIABETES KNOCK YOU OFF YOUR FEET
" I discovered I was a diabetic at 35… and I could not believe what I found out about diabetes in your feet. You can't believe how detrimental pressure is to your feet. [With Orpyx SI] you can keep track of what's going on with your feet all the time and believe you and me, you need it all the time." – Mr. Larry, Orpyx SI Customer
How Orpyx® SI Sensory Insoles Work

Each system comes with its own magnetic charging USB cables and an instruction manual.
Orpyx® SI plantar technology provides real-time feedback, enabling you to take immediate action when sustained high pressure was detected. High pressure can cause skin damage on the soles of the feet, which if left untreated could lead to foot ulcers, infections and, at worst case scenario, amputations.
In the clinical study, the group that received pressure alerts were 71% less likely to re-develop foot ulcers compared to the group who didn't receive any instant feedback. And the sub-group that wore the insoles for 4.5 hours a day or more were 86% less likely to re-ulcerate.
Interested in Knowing More?
If you are interested in knowing more about the Orpyx® SI Sensory Insoles contact the office of Dr. Eric Lullove to schedule an appointment to get more information. Call us today at (561) 989-9780 to schedule an appointment!
Why Choose Us?
Award Winning Coconut Creek Podiatrist
Gentle and Caring Staff
Wound Care Specialist
Specializes In Medical and Surgical Care Of the Foot And Ankle
Accepts Most Insurance Plans