Corns and Calluses
Foot Treatment in Coconut Creek, FL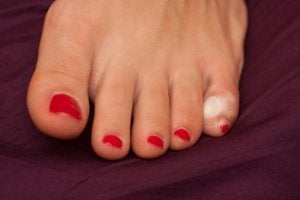 Corns and calluses are pockets of hardened layers of dead skin that can make it painful to walk. They are typically caused by friction (such as the rubbing of the foot against a shoe) or regular pressure on the foot. Corns are round and usually have a tender spot in the center with dead skin around it. They are most commonly found on the toes. Calluses are flatter sections of dead skin and are usually found on the soles of the feet.
A few common causes of corns and calluses include:
Improperly fitting shoes (shoes that are too tight or too loose)
High heels that place too much pressure on the front of the foot
Improperly fitting socks
Toe deformities (claw toe, hammertoe, etc.)
Our Coconut Creek Podiatrist Can Help
If you have a corn or callus, our podiatrist in Coconut Creek can provide you with the necessary treatment. Eric J. Lullove, DPM can help you work to restore the skin on your foot and alleviate the pain you are experiencing. Padding is one common way of controlling this pain. Call our office at (561) 989-9780 to ask about our corn and callus treatments! We serve the areas of Coconut Creek and Palm Beach County.