MolecuLight i:X Wound Imaging Device
Dr. Eric Lullove Specializes in Diabetic Foot Care
Advanced Detection of Bacteria in Wounds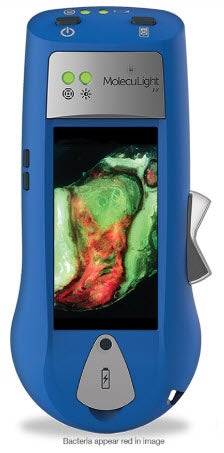 MolecuLight i:X wound imaging enables Dr. Lullove to more accurately and quickly capture digital wound measurement in order to identify the presence of bacteria in wounds that may otherwise lack signs and symptoms of infection. With this device, we can quickly, safely and easily visualize bacteria and measure wounds at the point of care.
Clinical studies have shown that wound assessments performed using the MolecuLight i:X as part of standard care facilitated more objective medical decision-making, resulting in wound healing that was up to nine times faster, with 54 percent more accurate swabbing.
Benefits of MolecuLight i:X
Accurate wound measurements determine whether wounds are progressing and helps evaluate the effectiveness of the treatment plan as well as help further refine a treatment plan. The MolecuLight i:X imaging device provides a much more accurate analysis than the traditional method of measuring the length and width of wounds. With the MolecuLight i:X, Dr. Lullove can measure wounds with greater than 95% accuracy and with more consistency.
What does this mean for you?
Instant visual detection of potentially harmful bacteria in wounds that would otherwise be invisible
More accurate diagnosis and treatment
More comprehensive wound assessment
Better wound cleaning and debridement
How It Works
The MolecuLight i:X shines a safe violet excitation light on a wound which causes wound components (skin, slough, blood, bacteria, etc…) to fluoresce (or emit light) in different colors. The most informative of these fluorescent colors are displayed and captured on the device. The red and cyan fluorescence are associated with the regions of bacteria associated with moderate to heavy growth.

This point-of-care device helps Dr. Lullove optimize wound protocols including more effective wound cleaning and debridement. It also helps in tracking the effectiveness of the treatment plan decreasing bacterial load and wound size which enables Dr. Lullove to modify the treatment plan if you are not responding to it.
Interested in Knowing More?
If you are interested in knowing more about the MolecuLight i:X contact the office of Dr. Eric Lullove to schedule an appointment to get more information. Call us today at (561) 989-9780 to schedule an appointment!
Why Choose Us?
Award Winning Coconut Creek Podiatrist
Gentle and Caring Staff
Wound Care Specialist
Specializes In Medical and Surgical Care Of the Foot And Ankle
Accepts Most Insurance Plans