Ankle Sprains
Treatment for Ankle Injuries in Coconut Creek, FL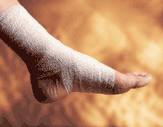 Ankle sprains usually occur after the ankle has been twisted in the wrong direction, or after an excessive amount of force has been placed on the ankle bones. Ankle sprains usually result in symptoms such as swelling, bruising, and pain in the injured area. The amount of damage that occurs to the ankle and the recovery time usually depends on how severe the sprain is.
A few common types of treatment for sprained ankles include:
Elevation of the injured ankle and application of ice, helping to keep the swelling down
Compressive bandages
The use of devices such as crutches or splints
Physical therapy
Surgery for more serious ankle injuries
Want to know how you can better avoid ankle sprains? Make sure to stretch and exercise on a regular basis to keep you ankles strong and flexible. Furthermore, wearing shoes that fit you properly can help you maintain better balance and avoid injury.
Schedule an Appointment with Our Coconut Creek Podiatrist
If you have suffered from an ankle sprain or any other type of ankle injury, you should consult with a podiatrist who can assess the damage and provide you with the appropriate treatment. Even if you think the injury is "just a minor sprain," you should get it looked at in case the damage is actually more serious than you think. Our doctor, Eric J. Lullove , DPM, is an award-winning Coconut Creek podiatrist who can provide you with the care you need!
Call us at (561) 989-9780 to schedule an appointment with Dr. Lullove.